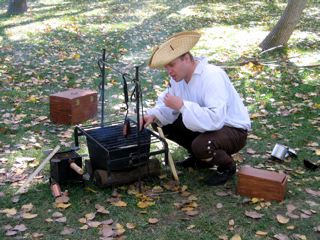 Can't you see you and your friends like Larry Hall at next years event setup on this historic land.
The 2007 NAF Nationals was held for five days, June 13th to the 17th, near the town of Rye, Colorado. The gates where open at 10:00 a.m. the first day and closed sometime around noon on the last. You will need to bring water, your gear and something to add to the pot luck which we will have one night. There was archery and shooting ranges, on close to 2000 acres to explore, impromptu classes and plenty of good campsites for your choosing.
NOTE: All the rendezvous were held west of the Continental Divide with the exception of the 1829, 1830, and 1838 rendezvous. Six of the sixteen rendezvous were held outside the United States in territory belonging to Mexico. Except for two sites in Utah and one in Idaho, all of the rendezvous were held in Wyoming. Many of the major parties passed through Colorado heading into the Rockies.
This encampment gave our guests a taste of times gone bye.
_______________
READ ABOUT OTHERS THAT HAVE BEEN HERE
Tom Tobin Marino Medina Jim Baker
_______________
A flag pole and campfire was available for a central meeting place.
Meetings where on held Saturday (noon) and the pot luck on Friday night.
Plenty of trees to hold classes under and the main camp can spread out a little if that is what the people who show up want.
The closest hospitals are in Pueblo and I think Raton, so it would take a while to get any major accident to one. So the men would need to be careful.
We told the owner that he and his family are welcome to come to the camp to see what we are like and would let him know when the pot luck will be.
Our 2007 Nationals site is just west of the Mountain route of the Santa Fe Trail, less than a hundred miles to Bent's Old Fort or Great Sand Dunes National Monument. Whittington Center is just down the trail, along with Santa Fe where we could dance a fandango with the pretty dark eyed Senoritas. Maybe we can find where Ol' Jedediah went under down along the Cimmaron. Pecos Pueblo, Fort Union, and lots more is available for added interest.