Hi Susy,
I'm trying to make this an 'open letter' to all, hope it works. Tom Casselman was over to my homestead last Sunday to pick up some black powder. We had lunch and a nice visit. I recently realized he lives about 25 miles from me, I thought he lived about 110 miles from here at another place.... good news. He mentioned to me that you have a couple of nice canoes, and like to use them, and have an ability/interest in traveling. I've done quite a bit of traveling, canoeing, etc... in pursuit of adventure and meeting others of similar interests. I've done 5 day trips in Missouri, Montana, N. Dakota, Oregon, Utah; Mo River in Mo, Montana, N Dakota, Yellowstone in Montana, Green R in Utah, and the Willamet in Oregon. I've done shorter trips in a few other places. I've had several folks ask when/where is the next one? Folks need travel requirements. It's a lot of work putting together a trip. I have to put in my vacation requests (not always granted) in Nov for the following year = = = planning ahead. I've put together trips with folks saying they will do it, only to find half the crew drops out by the time the trip is due to commence. What is your experience? The nice thing with the NAF requirements is that we only need to do 3 days at a time.... It is hard to find 5 days worth of travel on class 1-2 water, 3 days seems much more do-able. Any ideas about organizing a canoe trip so fellow NAF members can participate and gain travel requirements? I'm on the south central coast of CA., so finding navigable water nearby is a challenge = impossible. My wife has done a few trips with us in the past, and is now retired so is more flexible than I am with time off (I'm still doing overtime at the salt mines). One of the reasons for making this an open letter is to (hopefully) let folks know that organizing a canoe trip isn't easy. If you are truly interested you must be able to commit to the plan, and stay committed. There is nothing more frustrating than to start with a list of folks, do all the ground work , and at the end have half the folks fall out.... leaving every one else in the lurch. It has happened more than one once to me. Long ago I didn't have much else to do but have fun and adventure, things have changed over the years. I now have grandkids half way across the country, and to see them takes a big chunk of my available time off. Which makes my ability to organize a canoe trip even more critical. I don't have time to waste.
If you want to do a trip, and one is offered.. don't blow it off. About the National in Rye, CO next year. I was at the last one and it is a beautiful place. I hope to go again next year, tied in with some New Mexico exploration, etc.... I made the trip last time with two other brothers. We saw the museum at Santa Fe, Bents Fort in CO., etc.... on the way. It was a great trip.
THIS TIME I HOPE TO DO THE TRIP WITH MY WIFE AND DO MORE EXPLORATION OT TAOS, SANTA FE, ETC..... oops forgive the cap lock.... It will depend on weather I'm allowed the time off from work. Hope to see those of you I know, and/or meet those of you who I don't. As long as this is an open letter, I'd like to thank those who put so much effort into making this association a success. I know what it takes, and am somewhat burned out.... hats off to Buck, Ole, Tom, etc..... Hope to see you around a campfire soon.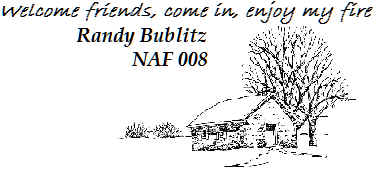 __________________________________________
Yo Randy,
Just returned from a 2 day trip on the Green River. Started in Wyo ..Thinking we went more than 20 miles... learned a BUNCH [Volumes] !!! Took the new-to-me Faux Birch Bark factory painted 14 foot canoe. This was to be documented as my second canoe trip ... one on a reservoir overnite and now "The Green River Voyage" will be added to the annuals of history. Have canoed around small ponds and reservoirs only, my first big river. We became pre-1840 voyagers and looked very much the part minus the BRIGHT RED and CONSTRUCTION ORANGE BARREL life preservers required for parts of the journey.
We put into the river at first light eager for the day's adventures. The first day was absolutely BEAUTIFUL !!! [Photos do not do justice to this prairie land of many colors and textures]. The 1st part of the day on the river with a current was a canoer's dream. From Mid-morning to 5:30 pm or so, we arrived to the still water and had to paddle for any forward progression. We watched small herds of antelope, deer grazing near the river. Large flocks of waterfowl were honking and taking to flight when we came too close for their ever watchful sentries. A Loon was first heard then spotted bobbing along in the water, Osprey and 3 Bald Eagles also graced us with their presence along the way ! Several huge fish jumped right by the side of the canoe ... I was so proud of myself for not reacting so hard as to tip us over, but a squeal loud enough to set the waterfowl to flight escaped each time that occurred [That's probably where the Pirate's favorite Arrrgh expression came from... I think that's what I heard the Captain say !].
Primitive camp was set up and Captain cooked melt-in-your-mouth buffalo steaks over the rock reflector fire ... nice weather, peaceful supper. Later the wind came up and threatened to take the house down causing the canvas to shudder and shake with it's force. We spent time gathering large pieces of slate rocks to cover all the pegs and sides of the shelter... whew.. it stayed up and was a good place to rest weary voyagers.
Day Two started out overcast, but fine. [Ummm, wasn't the sunset a little red last nite? Red at Night, Sailors Delight ... right?] We went around a few bends before we spotted ugly clouds ahead. The wind picked up, of course in our faces and became stronger as we went along. The canoe would rise and fall and slap the water as we dug our way through. At one point, waves became most concerning, spilling into our small craft, but Captain is a calm, strong rafter with confidence in his experience and decisions. Keep paddling ! Aye aye Sir ! Our progress became a snail's pace, ever digging forward, but being blown back towards the shore erasing part of the footage we had just made.
We fought the wind and the waves (white caps) every inch of the way. Had it gotten any worse, we were prepared with food and shelter to spend another night (and had warned the families not to panic if we had to stay another night. The wind in Wyoming is always the "Wild Card".) I have never worked so hard in my life, but knew it would be disastrous to give up. Whew ... had a great Captain/ Cheerleader behind giving instructions and encouragement all the way. When we finally made it around a major cliff that we dubbed "going around THE HORN", the waves were still difficult, but some better. We were very tired, every stroke of the paddle was made with the effort, but we kept paddling.
About 3 miles from our destination, a freak wave surprised both of us giving us the opportunity to learn what to do when you capsize (not on purpose !!!!).. I grabbed the canoe and fortunately could touch bottom and started dragging it in, Captain was on slick ground struggling to get his footing and almost went under the canoe, but he was able to grab it and help himself until he could remain upright.
Our Canoeing Grandfathers had wisely counseled to tie in everything you didn't want to lose, so the few items lost were ok? Captain lost a beaded hat band, enamel wash basin for bailing & a towel. I lost an antique enamel pot of my grandmothers I used for bailing. I watched it as it went "Blub, Blub" beyond my reach into the depths of the green watery grave. (Imagine the treasure hunters or fishermen of the future .. they will think they found authentic equipment from John Westley Powell's adventures.. haha... they will wonder what the pink coloration on the bottom of the pot is ...some strange discoloration of the gray enamel or pink fingernail polish to mark it as mine ... did they have fingernail polish back then?).
We righted everything ... retied, bailed nearly all the accumulated water/silt with the cooking pot ... but now had some wet equipment ... and were wet ... so figure another 100 pounds, or like having another person in the boat that is doing nothing but being dead weight. We laughed a lot though and tried to figure out what happened while we were repacking. The water wasn't as cold as I had anticipated and thank goodness we didn't go over in the middle of the huge algae areas that were thick with duck poo !!!! ( Oh my gosh ... they were disgusting... it was even hard to paddle thru them, they were so thick !) OR when trying to go 'round the dreaded "HORN".
We struggled thru the current towards our takeout point. The Captain finally said to take her into the shore [whew, thank you Captain !]... we were beat and the vehicle was near enough to walk to get it. I laid on the beach in the rocks looking very much like a beached whale to give my muscles a chance to relax. That short 10 minutes before I had to start un-tieing and unloading the gear helped immensely. WHEW ! YAYAYAYAY !!! ... we did it. We accomplished the wild dream of many years. What an adventure. When the truck & trailer pulled up, there was still enough energy left to jump up and down and wave arms. YAY ! We made some very good decisions [The Captain said, I agreed] with our circumstances and were able to protect the equipment and OURSELVES !! Had we gone over when going around "The Horn" ... we could have lost everything .. maybe even ourselves !
Many hours of preparing gear, watching weather, time, course of travel, permits, transportation, food prep ... were spent by all in preparation for this voyage. No animals were hurt (the buffalo willingly gave us a couple of steaks), and NO PEOPLE WERE HURT !

IT WAS A FANTASTIC VOYAGE TO BE ALWAYS REMEMBERED !!!!
WOPILA TANKA TO OUR GREAT CREATOR FOR MAKING SUCH A BEAUTIFUL EARTH FOR US TO ENJOY AND EXPLORE !!!!

AHO !
SUSY "SPIRITWOMAN"
NAF 111
__________________________________________
McDara - just a knot about the other cones!

Seems McDara has started his Holiday Season early and now he's under the table asleep.

We took this opportunity to let everyone read one members 'open letter' & another's reply.