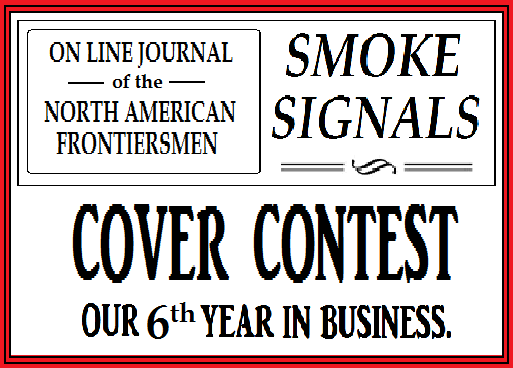 The North Frontiersmen Association is entering its 6TH Year of being in business. Some groups gave us six months and we would close our doors. Well to those folks of which some are now in trouble - WE'RE STILL IN BUSINESS & DOING WELL.

Starting our SIXTH YEAR we're going to have a contest for the NAF members, here's how it will work.
The NAF receives many email comments on our On-Line Journal "Smoke Signals" covers. That being the case our contest will be which cover is your favorite?
How this will work:

The cover with most votes collected for a single cover will be gathered.

Those that voted for that winning cover; their names will be placed in a hat.

One of those names will be picked and the winner will receive the contest prizes. YES I said PRIZES more than ONE.

will run for the two issues:
Nov/Dec 2011 and Jan/Feb. 2012.
"Smoke Signals Covers"
| | |
| --- | --- |
| 2009-2010 | the 2012 covers for: |
| | |
| --- | --- |
| 2011 | Jan/Feb, Mar/Apr and May/Jun issues. |
The contest will run in the next two issues of "Smoke Signals" Nov/Dec 2011 & Jan/Feb 2012 and our Chief Factor has emailed the NAF members of this event.
Our three man committee for counting the votes and handling the drawing out of the hat will be from the "Three Pines" boys from Hollister CA. Our Chief Factor will over see the counting.
Just simply send your email entry to naf_mag_editor@yahoo.com telling him your favorite cover.
please provide the year as well as the months for the cover.

provide your name, address & NAF Membership NO.
Pretty simple contest to enter. Thanks..
We have at this time:
"Success in the North American Fur Trade"

By: Barry "Buck" Conner

History of the Northwest Trade Gun, covering everything from the manufacturers, proof marks and much, much more, anything you would ever want to know about this weapon. (over 165 pages, with 300 plus pictures printed in the larger format of 8-1/2" x 11".)
"Rocky Mountain Tough"

By: Bill Cunningham

The mountain man of the 1800s fought the elements, the unexpected, and the Indians. A careless moment, a wrong decision, and he could lose his furs, his plunder, his hair. . . Today's buckskinner faces a more cunning, vicious foe—special interests want his land. For Maxwell Stacey, it may mean his plunder, his woman, even his life; the men chasing him have the finest modern guns and equipment money can buy. Max has only his flintlock rifle, his horses, and some fine honed survival skills from the fur trade period.
SnakeOyl's

"WONDER BUTTER"

A ALTOIDS tin of secret receipt - "WONDER BUTTER"

"I've used it for patch lube, waterproofing, tool slicking, lip balm, screw lube, nail grease, fire starter, and lots more".

Ungodly expensive to make from 11 rare & precious treasures of nature.
____________________________________________
We are looking for additional prizes this should get some attention winning a group of prizes not just one prize. We have a nice selection so far ????? We will continue to add to the pot, this looks like a very nice one now coming together.