CAPTAINíS LOG
It wonít be all that long now before nights are cool enough for a fire to feel good. And it wonít be too long after that when weíll be back to frost in the early mornings. Of course as I write this it is what is called the monsoon season in the southwest. Showers every day. Showers, here in an area where eight and a half inches of moisture per year is the norm, are generally called a six inch rainóthatís six drops six inches apart. We kind of like it that way because it is never too difficult to start a fire or to set up a rain proof shelter.
Thereís a new Factor for the west coastóTom Casselman. Randy had to withdraw and I wish him the best and I thank him for filling the post as long as he did. Tom has hit the ground running. He already has a flurry of plans in motion for the members he represents. Welcome aboard, Tom, and thank you for stepping upóespecially in such a positive way.
Many NAF members were at the Rocky Mountain National Rendezvous up near Creede, Colorado, this year. It is a place of stunning landscapes and little air, being at such a high elevation. As far as I could see everyone was having a grand time. There were lots of activities and more traders than Iíve seen at one place in a long while. Iím here to tell you that the archery events were simple and very tough. The targets and distances changed everyday and were a real challenge. Although I didnít shoot in the gun areas, I was told that if I wanted to be humbled to go over and give it a try. Needless to say I had already been humbled enough that I didnít want to do that. And there was the fact that in my hurry to pack and get ready to leave from home I totally overlooked packing my guns. Probably a good thing as I usually pack about everything I own and carry enough food for four people for a monthóand then eat at the food vendors or other camps. I believe that I packed another couple pounds it would have ruined my truck.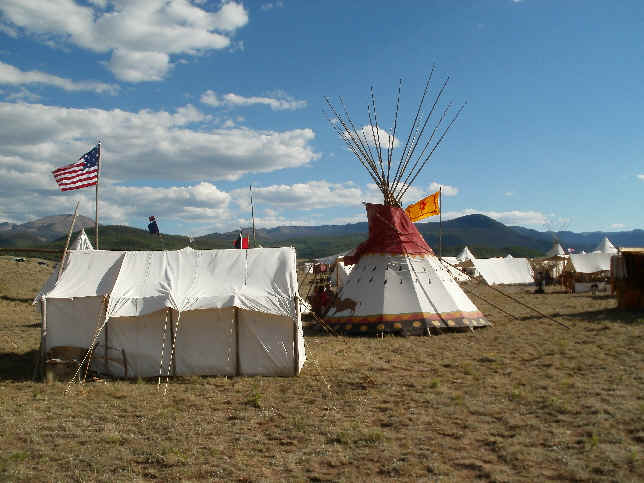 At the rendezvous almost every day saw an afternoon shower and spectacular thunder, lightning, rainbows and sunsets. The light rains kept away the dust but didnít dampen enthusiasm. There were childrenís events, a nice little pond for swimming and canoeing, a great river (Rio Grande) for fishing, and evening activities, including a hilarious play, to keep the camp entertained. There was plenty of room for tin tipis close enough to the gate so that the walk was not horrendous, and parking was plentiful. Dog Soldiers and the medical staff did their jobs with no fuss and did them remarkably well.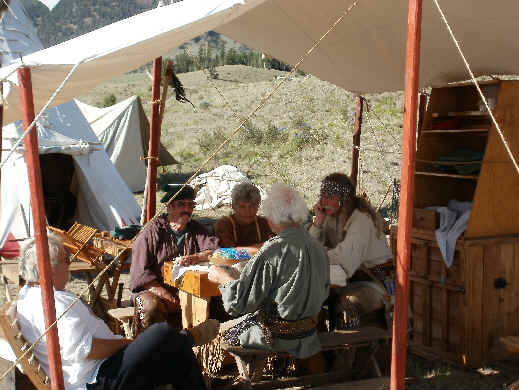 Next year the RMNR will be held up at Round Up Montana. Thatís a nice drive and the town itself is quite close to Canada. Billings is the closest city, I believe, and thereís not a whole lot in between. But if this yearís affair is any measure it will be worth attending.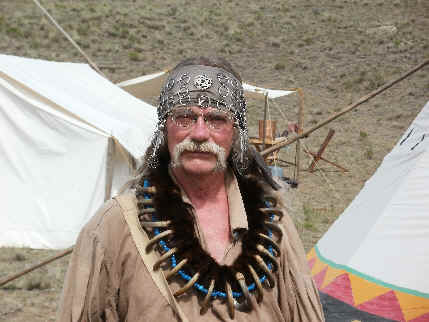 The NAF had a nice rendezvous this spring down there with the Anasazi Free trappers outside St. George, Utah. I know youíve heard it here before, but Iíll say it againóit is a sheer pleasure to be there. And we have another NAF camp planned for there this fall. I donít know the date yet but as soon as I do it will be published. That camp is pretty much just us. Although welcome, rarely do folks from the local area show up. We have the use of the entire place including the archery and rifle/pistol ranges, the challenging knife/hawk/atlatl/spear courses, and the surrounding country offers grand exploring. I hope that at least some of you can join us.
I remain, Yr Svt.