Randall Bublitz

Smoke Signals

Nov./Dec. '10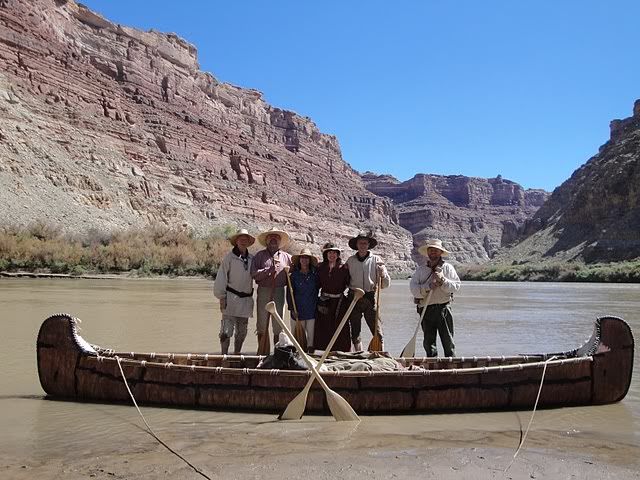 The Lower Green River re-Visited


Last year I was contacted by an old friend, with whom I've traveled primitively many hundreds of miles and many weeks combined. We, and other good friends, have had many shared experiences all over this great country of ours. He lives in Missouri, and I live in California. Missouri Jim had a proposal; a mutual friend's wife needed to do a travel requirement for the Woman of the Fur Trade (women's auxiliary of the A.M.M). Jim asked me to booshway a canoe trip on the Lower Green River, Utah. A couple of trips that Jim and have shared included my good wife, Lynn. Jim figured, correctly, that it would be a good trip if both ladies participated; and that having a couple of ladies along would make each more comfortable with the roster of participants. Jim knows that on one of our trips Lynn was the only lady along, and she felt uncomfortable for several different reasons and wasn't going to repeat the experience.
Ten years ago a group of seven of us men did this same section of the Green River. It was the smallest party of men with which we had done a canoe trip. We each found it to be a great experience, and we were very happy that the group dynamics worked so well with a fairly small party. Most of us agree that that made the trip 'extra' special. For this reason we limited the participants to ten, or less. We have done trips with as many as twenty-one participants, and this gets complicated. O.K., I surrender… I'll put the trip together for June 2010.
Having booshwayed this trip before, it wasn't too difficult – I had all my notes and information from 10 years ago. The hard part is putting together a roster, which will remain stable; in other words- getting folks to commit and stay committed. The real world changes, and so does the roster. Four folks ending up not being able to make the trip after plans were well under way, due to work restrictions and medical problems. Yikes…!!! This left us with too small of a group, and an odd number. The odd number means 3 to a canoe (crowded & heavy), or someone solos. Ten years ago we had an odd number of participants. I opted to solo- it was tough but do-able. I'm 10 years older now, and the good wife doesn't want to be in someone else's boat. We needed another partner on the voyage. We put out a call to a good friend in Florida, with whom we've shared a couple of adventures. A long story short, Tom Roberts could fly to Denver, CO., where Tom could be picked up by Mike Moore and they would partner on the river adventure. Our other participants were Jim and Teresa Hannon, St. Louis, MO territory. Lynn and I made an even six participants in three canoes. There was a lot of worrying about wether we would have to scrub the trip after so many months of anticipation. As it came down to the wire, we were pleased and relieved that our trip as really going to happen. Tom saved our bacon.
As usual my little article is getting big. I'll continue with the actual adventure next time. The point of this article is that anything worth doing requires planning, and the planning doesn't always flush out. Don't get too discouraged - things have a way of working out. Plan ahead and pray for the best. This trip was near being cancelled and it turned out to be a great adventure for all concerned.
Paddle Hard, Life is Short.
Yfab, Randy