MILLER - CATLIN - BODMER
Among the artists who first recorded the American West the most important are George Catlin, Karl Bodmer, and Alfred Jacob Miller in this order. Of this group, Catlin and Bodmer were motivated primarily to produce a historical and ethnographic record and were imbued with an essentially scientific point of view. Miller is a different matter. To compare him with Catlin and Bodmer is to juxtapose passionate sincerity, professional objectivity, and romantic poetry, which, in all fairness, are hardly comparable.
Miller was trained in Paris and Rome in portrait, landscape, and marine painting as well as that most romantic of themes, the painting of history. His great opportunity came to accompany the wealthy Scottish traveler Sir William Drummond Stewart on a tour of the trans-Mississippi West, he was to record, not the facts of ethnography, but a dramatic adventure into an exotic world.
In regard to the paintings of Catlin and Bodmer; they are viewed as exciting early views by white people of the Indian cultures, showing the customs, costumes, and physiognomy. The look of things before they would be changed forever.
Miller was born in Baltimore. He studied in Paris and Rome, upon his return to this country he opened a portrait studio in Baltimore but was unsuccessful. In 1837 he moved to New Orleans where he was selected by Capt. William Drummond Stewart as artist to record a journey to the Rocky Mountains. The expedition journeyed by wagon along what was to become the Oregon Trail. Miller sketched the Native American along the way and also recorded the rendezvous of the mountain men in what is now southwestern Wyoming. Miller returned to Saint Louis with about 166 sketches which were later developed into oil paintings while in New Orleans and Baltimore. From 1840 to 1842 he lived in Stewart's Murthly Castle in Scotland, Painting oils as decorations depicting favorite episodes from the trip. He also delivered a portfolio of 83 small drawings and watercolors. Miller spent the rest of his life in Baltimore painting portraits and making copies of his Western themes.
One of the best known paintings in Joslyn's extensive Miller collection, The Trapper's Bride represents an American Fur Company trapper taking a wife. Miller painted several versions of this subject, one of which is in the Walters Art Gallery in the artist's home town. About this incident the artist later wrote:
The price of acquisition in this case was $600 paid for in the legal tender of the region: viz.: Guns, $100 each, Blankets $40 each, Red Flannel $20 pr yard, Alcohol $64 pr. Gal., Tobacco, Beads etc. at corresponding rates. A Free Trapper is a most desirable match, but it is conceded that he is a ruined man after such an investment.... The poor devil trapper sells himself, body and soul, to the Fur Company for a number of years. He traps beaver, hunts the Buffalo and bear, Elk, etc. The furs and robes of which the Company credits to his account. - David C. Hunt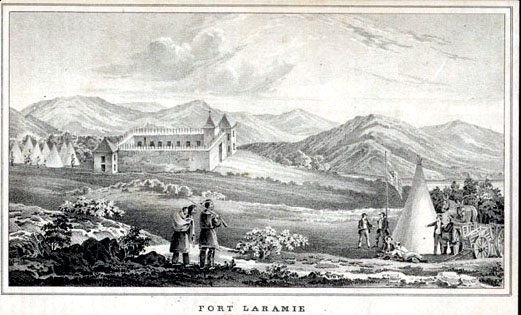 Fort Laramie, 1845

Ft. Laramie has in its history four incarnations: (a) a cottonwood stockade constructed at Laramie's Point, but named by Wm. Sublette "Fort William", 1837 painting by Alfred Jacob Miller shows the exterior view; an adobe fort depicted in the engraving; a military post, showing its present configuration consisting of a mix of restorations and ruins. The fort served as a terminus of the "Trappers' Trail running from Taos northward. The Trappers Trail fell into disusage when fashions changed and silk replaced beaver in hats. In 1841,the stockade was replaced by an adobe structure depicted in the engraving above and as described by Francis Parkman below.

Miller gave a description of the fort as being:

"of a quadrangular form, with block houses at diagonal corners to sweep the fronts in case of attack. Over the front entrance is a large blockhouse in which is placed a cannon. The interior of the fort is about 150 feet square, surrounded by small cabins whose roofs reach within 3 feet of the top of the palisades against which they abut. The Indians encamp in great numbers here 3 or 4 times a year, bringing peltries to be exchanged for dry goods, tobacco, beads and alcohol. The Indians have a mortal horror of the "big gun" which rests in the blockhouse, as they have had experience of its prowess and witnessed the havoc produced by its loud "talk". They conceive it to be only asleep and have a wholesome dread of its being waked up."

_______________________________________________________________

Bodmer was born in Zurich, Switzerland. At the age of thirteen he began to study art with his uncle Johann Jakob Meier; a painter and printmaker. In 1828, Karl and his elder brother Rudolph left Switzerland and followed the Rhine to Koblenz where they began to work on their own. Bodmer worked there for three years, producing drawings and sketches that were etched by Rudolph and sold to tourists in travel albums. It was while he was in Koblenz that the young Bodmer met Prince Maximilian in January of 1832. The Prince was planning a trip to North America and was looking for an artist to illustrate his travels Bodmer served the expedition in much the same way as a modern-day photographer. His landscapes recorded the western frontier so accurately that the landmarks—where they have not been altered by time or settlement—are identifiable today. And his detailed portraits of Native Americans are among the most important visual records of the Plains Indian tribes in the early 19th century.

Places visited by Prince Maximilian and Karl Bodmer:

Europe to St. Louis, May 17, 1832 - March 24, 1833

On May 17, 1832, Maximilian and Bodmer boarded the Janus and set sail from the Netherlands. They arrived in Boston on July 4, 1832, amid Independence Day celebrations. From there, they traveled by stagecoach into New York City and across Pennsylvania, stopping to visit in Philadelphia, Bethlehem. They continued west through Ohio and into Indiana [Mouth of Fox River, (Indiana)], spending the winter in New Harmony, Indiana so Maximilian could recover from illness. Thomas Say and Charles-Alexander Lesueur had been on two American frontier expeditions with Major Stephen Long who, a decade earlier, explored the Rocky Mountains; Lesueur was respected for his study of living organisms in Australia as well as North America. Maximilian took advantage of this opportunity to visit with the scientists, and utilize the town's library that contained one of the best natural history collections in the country. In the spring, the journey continued by riverboat to St. Louis, Missouri, which served as the gateway to the west.

St. Louis to Fort Union, March 24 - July 6, 1833

In April, Maximilian and Bodmer boarded the American Fur Company's steamboat, Yellow-Stone,

to begin their historic journey up the Missouri River. In early May, the Yellow-Stone docked at Bellevue, located just south of present-day Omaha, Nebraska, where Maximilian and Bodmer visited a trading post and Indian agency operated by Major John Dougherty. The party continued upriver to Fort Pierre where they boarded the larger steamboat, Assiniboine. Seventy-five days after leaving St. Louis, the expedition reached Fort Union, in present day North Dakota, [Fort Union on the Missouri] which was the farthest a steamboat could navigate on the Missouri at this time. Like the other Missouri River forts visited by Maximilian and Bodmer, Fort Union was not a military encampment but a commercial outpost owned by John Jacob Astor's American Fur Company and operated for trading purposes.

Fort Union to Fort McKenzie, July 6 - September 14, 1833

In order to push further west, Maximilian's party boarded a Fur Company keelboat and traveled another 500 miles upstream toward Fort McKenzie, north of what is now Great Falls, Montana. While traveling on the upper Missouri, they passed through a particularly beautiful area of the Missouri River where Bodmer depicted the Stone Walls on the Upper Missouri.

Winter at Fort Clark, November 8, 1833 - April 18, 1834

After spending six weeks at Fort Mckenzie, the expedition returned downriver to Fort Clark, located about 45 miles north of the present city of Bismarck, North Dakota; they wanted to meet and learn more about the Mandan and Minatarre [Hidatsa], whose villages were located near the post [Mih-Tutta-Hangkusch, a Mandan village]. They spent an extremely bitter winter of 1833-1834 at the fort where they endured many hardships. In spite of this, however, the two men continued their work with great interest and in good spirits. Maximilian collected information from the warriors and elders of the tribe; and Bodmer executed dozens of studies of the villages, ceremonies, and individual people.


St. Louis to New York - May 27 - July 14. On April 18 the party left Fort Clark and proceeded downriver, landing at St. Louis on May 27. Their journey back to New York took them to the Great Lakes and to Niagara Falls. They sailed for Europe on July 16. Maximilian and Bodmer took with them vast numbers of specimens of flora, fauna (including live bears!), densely packed pages of notes, and many sheets of detailed drawings and watercolors produced during the journey.

Bodmer was employed to make detailed, accurate drawings of what the two men saw on their expedition, to be used upon their return to Europe to generate the printed illustrations for the account Maximilian planned to publish of their experiences. As they journeyed across the eastern half of the United States, Maximilian recorded numerous insightful observations about the young nation. But Maximilian and Bodmer's most notable contributions lie in their ground-breaking documentation of the flora, fauna, and native inhabitants of the Missouri River valley, from St. Louis to Montana. Maximilian's diary records the life, rituals and languages of tribes such as the Omaha, Sioux, Assiniboin, Blackfoot, Mandan, and Minatarre (commonly known as Hidatsa). Bodmer's work vividly reflects the landscapes, wildlife, frontier settlements, Indian villages, and people that Maximilian described in his diaries. Together, Maximilian and Bodmer's written and visual documentation constitute an invaluable record of the upper Missouri frontier.

In 1834 the steamboat Assiniboin, carrying a large part of Prince Maximilian's natural history and ethnographic specimens burned and sank on the Missouri River.


Following the Buffalo: In the 1830s the buffalo was the staff of life for the Plains Indians, providing food, clothing, and shelter. A full-grown bull at 8 to 10 years old measured six feet tall at the shoulder, 10 feet long from nose to rump, and could weigh as much as 2,000 pounds. Maximilian and Bodmer witnessed a large number of buffalo moving toward the river while traveling from Fort McKenzie to Fort Union. Bodmer captured the scene in Herds of Bisons and Elks on the Upper Missouri.

While visiting Fort Union on their way up the Missouri River, Maximilian and Bodmer recorded the life of the Assiniboins, a nomadic tribe encamped in the area. Maximilian visited the Assiniboin camps, observing the women at work, a curing ceremony, and other aspects of tribal life. He describes in his journal their patterns of nomadic movement and methods of hunting:

The two explorers spent twelve days at the fort where Bodmer rendered portraits of Assiniboin tribesmen and scenes of daily life. His work there includes a sketch that became the print A Skin Lodge of an Assiniboin Chief which shows a tipi made of buffalo hide.

_______________________________________________________________

Catlin's Letters and Notes on the Manners, Customs, and Condition of the North American Indians read. "If I should live to accomplish my design, the result of my labours will doubtless be interesting to future ages; who will have little else left from which to judge of the original inhabitants of this simple race of beings, who require but a few years more of the march of civilization and death, to deprive them all of their native customs and character."

Early exposure to Indian lore may have sparked George Catlin's lifelong interest in native American culture. In a frequently quoted, albeit highly romanticized, autobiographical account, the artist related colorful tales of his mother's capture and safe return by a band of Iroquois and his own vivid memories of a friendly Oneida tribesman who was murdered when Catlin was about ten years old. Nearly two decades later, the legend continues, a chance encounter with a delegation of Plains Indians passing through Philadelphia rekindled the artist's youthful fascination. Inspired by their pristine grandeur, Catlin dedicated himself to the monumental task of documenting all Indian tribes from the Alleghenies to the Rockies, vowing nothing short of the loss of his life would prevent him from visiting their country and becoming their historian.

Catlin's professional life was somewhat unorthodox. Acceding to his father's wishes, he agreed to study law in Litchfield, Connecticut, but concurrently established a more temperamentally congenial alternative career as a painter of portrait miniatures. After passing the bar exam in Connecticut, Catlin returned home to rural Pennsylvania, where he practiced law with his older brother for three years.

By 1821 the young artist had moved to Philadelphia, where he exhibited some early work at the Pennsylvania Academy of the Fine Arts. Catlin remained in the city for approximately four years and probably undertook some formal art study during this period, but little definitive information exists regarding his early training. He was invited to Albany to paint DeWitt Clinton, the governor of New York, in 1824 and the following year he was hired to create a series of lithographs depicting construction sites along the Erie Canal.

Catlin settled in New York in 1826, the year he was elected to the National Academy of Design. Although work was scarce during much of this time, in 1829 the artist did receive a relatively prestigious commission to paint a group portrait of the one-hundred-one Virginia legislators assembled at the State Constitutional Convention in Richmond.

Despite this minor coup, Catlin was becoming increasingly dissatisfied with the progress of his career. After more than a decade as a painter, he had attained only marginal success. Like many artists of his day, Catlin believed that history painting would be a far more elevated vehicle for his creative talents than portraiture; yet, when forced to vie for patronage with more established -- and more skilled-- contemporaries, he had great difficulty obtaining commissions for this type of work. Stung by harsh criticism of his painting by influential critics such as William Dunlap, who described him as "utterly incompetent," Catlin may have began to doubt his ability to compete with better-known artists. Surely, he must have realized that an alternate, highly unconventional career spent traveling throughout the western territories painting Indians would offer him adventure and almost certain fame, since regardless of the critical evaluation of his art in purely aesthetic terms, the historical significance of his pioneering contribution could not be denied.

With the aid and encouragement of General William Clark, the renowned explorer who was then serving as Superintendent of Indian Affairs for the Western tribes and Governor of the Missouri Territory, the artist gained access to numerous midwestern tribes and was able to study them in great detail. Scholars differ widely as to the chronology of his travels, and Catlin's own itineraries --reconstructed in later years-- often are unreliable. It is known that the first Indian portraits he painted in the West were executed near Fort Leavenworth in northeastern Kansas in the late summer or early fall of 1830. After a season of intensive field work during which he produced numerous summary sketches, Catlin returned east in the late fall, visiting New York, Albany, and Washington. Rather than traveling extensively the following year, he probably spent most of 1831 finishing paintings based on the field studies he had created the previous season.

Catlin was anxious to travel even further west, seeking even more distant Indian tribes that presumably were less likely to have been compromised by their contact with white men. He returned to Saint Louis in December, 1831, and the following spring he undertook an arduous three m onth journey on the Yellowstone River to Fort Union, North Dakota, two thousand miles upriver. During the voyage, Catlin painted landscapes from the deck of the steamboat, and after arriving at his destination, he began painting genre scenes of Indian life in addition to straightforward portraits. He kept extensive notes to document his travels and made numerous notebook sketches.

While in the Upper Missouri territories, the prolific artist often completed five or six paintings a day. Returning south with French-Canadian trappers, he visited the Mandan villages, where he was permitted to witness and document a sacred four day initiation ceremony. Some scholars have suggested that Catlin's month long, in-depth study of the now extinct Mandan tribe constitutes his greatest ethnographic achievement. In the summer of 1838, only six years after his visit, the Mandan Indians were virtually annihilated by a smallpox epidemic inadvertently introduced by fur traders. Catlin reported that nearly half of the contaminated Indians, realizing that death was inevitable, "destroyed themselves with their knives, with their guns, and by dashing their brains out by leaping head-foremost from a thirty foot ledge of rocks in front of the village." Within months, nearly two thousand had perished. The forty who survived the epidemic were soon enslaved, murdered, or assimilated by neighboring tribes. The virulent disease ravaged adjacent tribes, as well, killing some 25,000 Blackfoot, Cheyenne, and Crow Indians before gradually spreading west to the Pacific, leaving a trail of death and devastation in its wake. Appalled by the tragic loss, Catlin lamented, "What an illustration is this of the wickedness of mercenary white men. "

Contrary to information the artist published years later, Catlin probably did not travel west in 1833; he most likely took time off to complete works begun the previous season. He exhibited some one- hundred-forty paintings in Pittsburgh, Cincinnati, and possibly Louisville that year, and he may have spent part of the winter in New Orleans. In the spring of 1834 Catlin accepted an invitation to join the first U.S. military expedition to the Southwest, where he encountered little known tribes such as the Comanche in Oklahoma. During this arduous journey, the artist -- along with many in his party-- became seriously ill with fever. More than a hundred in the group died. After several weeks of recuperation at Fort Gibson, Catlin made a solitary twenty-five day, five hundred fifty mile trip back to Saint Louis on horseback. He and his wife, who had been living there with friends during her husband's extended absence, sailed to New Orleans, before moving on to Pensacola, Florida, where they visited one of his brothers for the winter. He returned to New Orleans, where he lectured and exhibited some work in the spring of 1835. Catlin then traveled north to Fort Snelling (on the Upper Mississippi near St. Paul, Minnesota), where he painted the Ojibwas and Eastern Sioux. He also traveled in Iowa that year, painting Sauk and Fox Indians.

Catlin shipped his art east and began planning an exhibition for the late spring of 1836. His wife, who was expecting their first child, had returned to be with her family in Albany. When she suffered a miscarriage, Catlin abruptly cancelled the scheduled Buffalo show and in June set out in search of the Pipe Stone Quarry in southwestern Minnesota, a legendary site where Indians of many nations garnered material for their peace pipes. Formerly this land had been considered neutral territory -- a sacred place where enemies could meet in harmony in accordance with the wishes of the Great Spirit. By the time of Catlin's visit, however, it was controlled by the Sioux, who detained the artist and his English traveling companion in an attempt to restrict their access. Catlin persevered, however, even managing to collect some of the prized mineral, which later was named "Catlinite" in his honor.
_______________________________________________________________
There is so much more information available on the Internet, in libraries and book stores on these gentlemen that this is just a very small sampling to make you aware of these sources at hand. Use them, you will enjoy the experience of those that have traveled before you. Hope you enjoyed this short history of these wonderful artists that have recorded our history in their work.
come warm yourself friends
stay and enjoy yourself, we like the company.